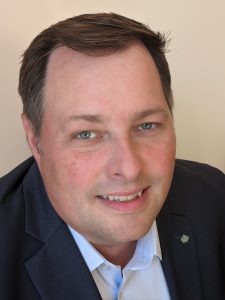 Sean O'Reilly B.Sc. (he/him), Regular member
Vice-President, Full-Time
From early on in his career in the Public Service, Sean O'Reilly wanted to make a difference in his
workplace and was devoted to helping his colleagues. He joined PIPSC's dedicated team of Stewards in 2002. Twenty years later, he is still passionate about listening to PIPSC members and finding real solutions to their problems.
Sean has held a number of positions within PIPSC over the years, which has helped him develop a deep
understanding of union issues at the sub-group, group, regional and national levels. Through his
involvement at all levels of the organization, he has heard the concerns of members from across Canada
and gained a deep understanding of the inner workings of PIPSC. His roles have included:
Chair of the PIPSC Annual General Meeting (2019; 2020; 2021)
Vice-President of Consultation Team – Shared Services Canada (since 2019)
Chair of the Professional Recognition and Qualifications Committee (since 2019)
Chair of Finance Committee (2017–2018)
Acting Full-Time Vice-President (2018)
Youth Champion (2011–2017)
Chair and member of By-Laws and Policy Committee (2009–2011; 2013–2016)
Chair of the Working Group on Consultation (2009)
Member of the Member Services Committee (2005–2007)
Chair, Vice-President and member of the National Capital Region Executive (2004–2018)
CS Group Executive (2003–2006)
Sean O'Reilly is bilingual, family oriented, empathetic, and open-minded. A skilled facilitator with
integrity, he has gained experience from active participation in numerous PIPSC executives and working
groups. If elected as full-time Vice-President, he will ensure that all voices in the organization are heard
and that consensus is the norm. As a strong advocate for workers' rights, Sean will work collaboratively
with all PIPSC members and continue to battle the employer on working conditions, pay, diversity,
equity, reconciliation, work-life balance and telework.
Voting for Sean O'Reilly as full-time Vice-President is a vote for intelligent, inclusive union leadership on
a human scale.